Normally, your PC will automatically recognize the TIF file and open it with the standard viewer that comes with the operationg system appropriate viewer.

Depending on the version of Windows being used (all versions except XP) the TIF viewer is named WANGIMG.EXE or KODAKIMG.EXE. The application is normally found in the Windows directory.

If you cannot find it and are using Windows ME, Windows 98 download it here.

If you cannot find it and are using Windows 2000 or NT download it here.
For more information using Windows NT click here.

Windows XP Users: Your PC comes with "Windows Picture and Fax Viewer". The XP viewer works very well and is highly recommended.

Now, choose KODAKIMG.EXE, WANGIMG.EXE or your viewer of choice from the selection box. If it is not listed, choose "Other" and browse your computer and select it. Make sure "Always use this program to open this file" is checked. Click "OK".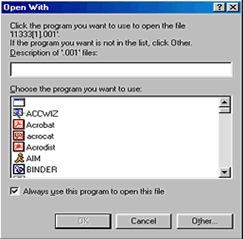 If you have one of the above TIF viewers, but it is not installed as a Netscape plugin, Netscape will return a message indicating that it cannot find the plug-in. If this happens, simply choose the "browse" option in the Netscape message box, and browse your Windows directory for the file "WANGIMG.EXE" or "KODAKIMG.EXE". Click on this file, and Netscape will install it as a plug-in.
Click here for additional Netscape help



*If you are using the Apple Quicktime for Windows viewer, there can be problems. The Quicktime viewer does not handle multi-page documents. We recommend uninstalling Quicktime and using the standard TIF viewer that came with the Windows operating system.